Among the 5 archipelagos,Polynesia features bays and lagoons with anchorages tailor-made for big yachts, while ensuring safety, security, comfort, authenticity and luxury.
Moreover, Polynesian legislators have significantly lowered the charter tax in order to give it more incentive.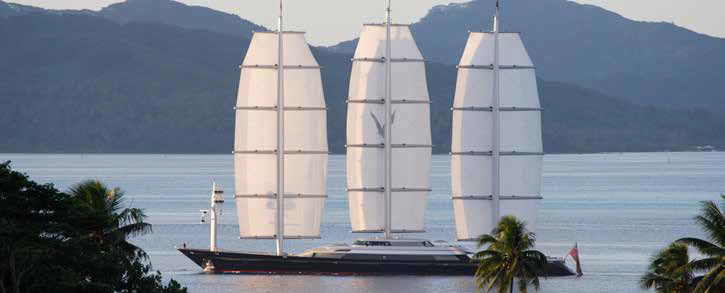 A quality stopover
10 good reasons to stopover in Polynesia:
Diversified anchorages in the 5 archipelagos : sheltered bays, paradise-like lagoons.
"Pacific" and secure ; no hurricanes, no pirates.
Custom made services and supplies
Competent shipyards and technicians
Modern marinas and qualified services in Tahiti
Supplies from all over the world with a "French touch"
Modern communications and health Infrastructure
Authentic, preserved and peaceful islands
Natural nautical and oceanic riches to be discovered
Living Polynesian culture with some French and Chinese influence
Experienced professionals
All services are available: specialized yacht agents, rigging specialists, repairmen and mechanics, crew agency, receptive agencies, carpenters, woodworkers, sail making and fairing, etc. Yacht Agents organize the stopover while meeting the demands of the biggest yachts :
Reserving berthage in the port
Customs, phytosanitary services, immigration
Visa extensions, medical care, repatriation
Delivery of tax-free fuel
Transportation of cargo for importation or exportation
Management of repairs and maintenance
Local, Pacific-wide and French products
Supplying nautical maps, local telecommunications, flowers, postal services, etc.
Certified crew members and local quality service suppliers
Custom designed activities (tours, golf, deep sea fishing, diving, over-island flights, etc.) and transportation(transfers to/from airport, private jet, helicopter, car rental with or without chauffeur), etc.
Well suited infrastructures and equipments
Papeete dock: big yacht maintenance (competitive prices, haulout capability up to 3,800 tons).
Two slipways available with 300 and 800 tons capacity.
Marina Taina: docks reserved for big yachts, up to 18 units, no draft limitation
Papeete Marina: dock reserved for large super yachts 24 to 100m.
Our partners :